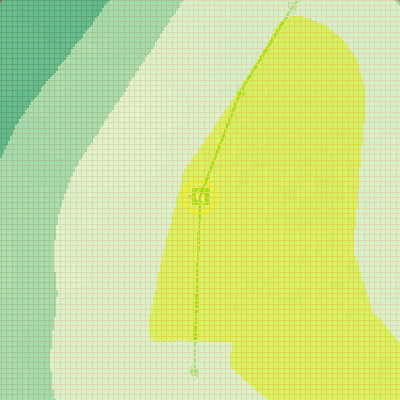 Hazard Details
UPDATE
JTWC
31
45 KT
55 KT
205 degrees
17 KT

January 20, 2018 09:00:00 GMT

January 12, 2018 21:00:00 GMT

January 20, 2018 07:55:09 GMT

200900Z POSITION NEAR 30.1S 49.6E. TROPICAL CYCLONE 06S (BERGUITTA), LOCATED APPROXIMATELY 622 NM SOUTH-SOUTHWEST OF ST DENIS, HAS TRACKED SOUTH-SOUTHWESTWARD AT 17 KNOTS OVER THE PAST SIX HOURS. ANIMATED MULTISPECTRAL SATELLITE IMAGERY DEPICTS A RAPIDLY DETERIORATING SYSTEM WITH A FULLY EXPOSED LOW LEVEL CIRCULATION CENTER (LLCC) BECOMING SLIGHTLY ELONGATED OVER THE LAST SIX HOURS. THERE IS HIGH CONFIDENCE IN THE INITIAL POSITION WHICH IS BASED ON THE EXPOSED LLCC. THE INITIAL INTENSITY IS ASSESSED AT 45 KNOTS AND IS BASED ON A BULLSEYE 200527Z METOP-B ASCAT IMAGE SHOWING THE MAXIMUM WINDS EXPANDING OUT TO APPROXIMATELY 80-100NM FROM THE LLCC WITH A SOLID REGION OF 40 TO 45 KNOTS ON THE EASTERN SIDE. VERTICAL WIND SHEAR IS INCREASING RAPIDLY AND IS EXPECTED TO CONTINUE AS A SHORT WAVE TROUGH TO THE WEST INTERACTS WITH TC 06S. TC 06S HAS ALSO MOVED INTO AN AREA OF COLD (24 CELSIUS) WATER, AND IS FORECAST TO CONTINUE POLEWARD, RAPIDLY TRANSITIONING INTO AN EXTRATROPICAL SYSTEM WITHIN THE NEXT 12 HOURS. THIS IS THE FINAL WARNING ON THIS SYSTEM BY THE JOINT TYPHOON WRNCEN PEARL HARBOR HI. THE SYSTEM WILL BE CLOSELY MONITORED FOR SIGNS OF REGENERATION. MAXIMUM SIGNIFICANT WAVE HEIGHT AT 200600Z IS 30 FEET.
Other Resources / Information