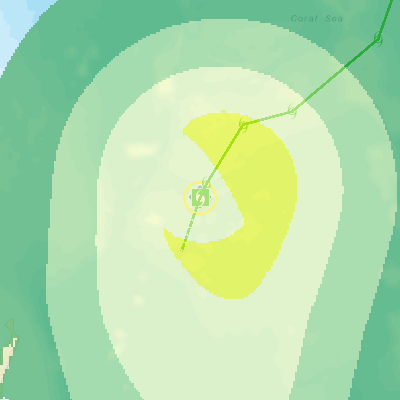 Hazard Details
UPDATE
JTWC
9
35 KT
45 KT
210 degrees
4 KT

March 14, 2018 15:00:00 GMT

March 12, 2018 15:00:00 GMT

March 14, 2018 13:37:48 GMT

141500Z POSITION NEAR 23.1S 156.2E. TROPICAL CYCLONE (TC) 13P (LINDA), LOCATED APPROXIMATELY 334 NM NORTH-NORTHEAST OF BRISBANE, AUSTRALIA, HAS TRACKED SOUTH- SOUTHWESTWARD AT 04 KNOTS OVER THE PAST SIX HOURS. ANIMATED ENHANCED INFRARED SATELLITE IMAGERY DEPICTS A FULLY EXPOSED, DECAYING LOW LEVEL CIRCULATION CENTER. ANIMATED WATER VAPOR IMAGERY SHOWS DRY AIR ENTRAINMENT. A PARTIAL 141108Z ASCAT IMAGE SHOWS A NARROW REGION OF 35 KNOTS ON THE WESTERN SIDE OF THE CIRCULATION. ENVIRONMENTAL ANALYSIS INDICATES THE SYSTEM IS IN AN AREA OF STRONG (35 TO 40 KNOTS) VERTICAL WIND SHEAR, DECENT POLEWARD OUTFLOW, AND 26C SST. THEREFORE, TC 13P WILL WEAKEN BELOW 35 KNOTS BY TAU 12 AS THE CYCLONE CONTINUES TO SLOWLY DRIFT TO THE SOUTHWEST. JTWC HAS HIGH CONFIDENCE IN THE FORECAST TRACK. THIS IS THE FINAL WARNING ON THIS SYSTEM BY THE JOINT TYPHOON WRNCEN PEARL HARBOR HI. THE SYSTEM WILL BE CLOSELY MONITORED FOR SIGNS OF REGENERATION. MAXIMUM SIGNIFICANT WAVE HEIGHT AT 141200Z IS 18 FEET.
Other Resources / Information