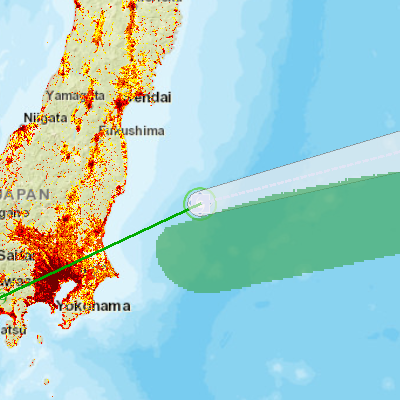 Hazard Details
UPDATE
JTWC
37
25 KT
35 KT
65 degrees
33 KT

September 20, 2016 21:00:00 GMT

September 11, 2016 21:00:00 GMT

September 20, 2016 20:26:13 GMT

202100Z POSITION NEAR 37.1N 143.7E. TROPICAL DEPRESSION 18W (MALAKAS), LOCATED APPROXIMATELY 159 NM NORTHEAST OF YOKOSUKA, JAPAN, HAS TRACKED EAST-NORTHEASTWARD AT 33 KNOTS OVER THE PAST SIX HOURS. ANIMATED ENHANCED INFRARED SATELLITE IMAGERY AND LOCAL RADAR PRODUCTS DEPICT A SYSTEM THAT HAS BEEN SHEARED APART WITH VIRTUALLY NO CONVECTIVE STRUCTURE REMAINING. INTERACTION WITH LANDMASS HAS SIGNIFICANTLY DISRUPTED THE LOW LEVEL FLOW, LEADING TO POOR IDENTIFICATION OF THE INITIAL POSITION AND WEAKENING TO A TROPICAL DEPRESSION. THE CURRENT INTENSITY IS BASED ON RECENT OBSERVATIONS IN THE REGION WITH THE MAXIMUM SUSTAINED WINDS OBSERVED AT 1800Z FROM CHOSHI, JAPAN REPORTING NORTHERLY WINDS AT 25 KNOTS. TD 18W IS CURRENTLY TRACKING EAST-NORTHEAST ALONG THE NORTHERN PERIPHERY OF A DEEP-LAYERED SUBTROPICAL RIDGE. DYNAMIC MODEL GUIDANCE IS IN GOOD AGREEMENT, LENDING HIGH CONFIDENCE TO THE FORECAST TRACK. THIS IS THE FINAL WARNING ON THIS SYSTEM BY THE JOINT TYPHOON WRNCEN PEARL HARBOR HI. THE SYSTEM WILL BE CLOSELY MONITORED FOR SIGNS OF REGENERATION. MAXIMUM SIGNIFICANT WAVE HEIGHT AT 201800Z IS 12 FEET.
Other Resources / Information