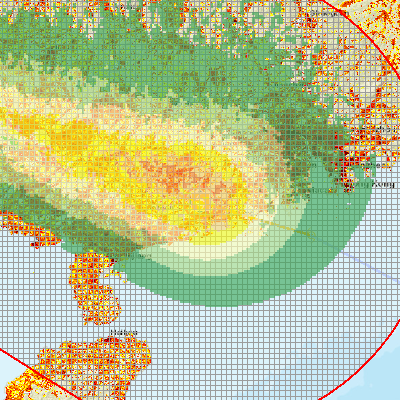 Hazard Details
UPDATE
JTWC
39
70 KT
85 KT
285 degrees
17 KT

September 16, 2018 15:00:00 GMT

September 07, 2018 03:00:00 GMT

September 16, 2018 21:43:38 GMT

161500Z POSITION NEAR 22.3N 111.0E. TYPHOON 26W (MANGKHUT), LOCATED APPROXIMATELY 134 NM WEST OF HONG KONG, HAS TRACKED WEST-NORTHWESTWARD AT 17 KNOTS OVER THE PAST SIX HOURS. ANIMATED ENHANCED INFRARED (EIR) SATELLITE IMAGERY DEPICTS A STILL EXPANSIVE SYSTEM THAT HAS MAINTAINED DEEP CONVECTION NEAR ITS CENTER, WHICH IS NOW OVER LAND. THE INITIAL POSITION IS PLACED WITH FAIR CONFIDENCE BASED ON THE EIR SATELLITE IMAGERY AND A 161100Z SSMIS 91GHZ IMAGE SHOWING THE PERSISTENT DEEP CONVECTION. THE INITIAL INTENSITY IS ASSESSED AT 70 KTS BASED ON OBSERVATIONS FROM YANGJIANG, 21 NM TO THE SOUTHEAST, READING 17 KTS AND 971 MB. WITHOUT TERRAIN AND FRICTIONAL LAND EFFECTS, 971 MB WOULD SUPPORT A 69 KT SUSTAINED WINDSPEED. TY 26W IS IN AN AREA OF LOW VERTICAL WIND SHEAR (VWS) AND EXCELLENT EQUATORWARD OUTFLOW, ALLOWING IT TO SUSTAIN SOME DEEP CONVECTION WHILE IT TRACKS OVER LAND. THE CYCLONE IS TRACKING NORTHWESTWARD ALONG THE SOUTHWESTERN PERIPHERY OF A DEEP- LAYERED SUBTROPICAL STEERING RIDGE (STR) TO THE NORTHEAST. TY 26W WILL CONTINUE TO TRACK WEST-NORTHWESTWARD UNDER THE STEERING INFLUENCE OF THE STR AND WEAKEN RAPIDLY OVER LAND IN SOUTHERN CHINA. THE JTWC TRACK FORECAST IS PLACED CLOSE TO THE MULTI- MODEL CONSENSUS. AFTER TAU 24, MODELS BEGIN TO DIVERGE, WITH THE ECMWF ENSEMBLE AND HWRF RECURVING THE WEAKENING CYCLONE FURTHER TO THE NORTH AROUND THE STR AXIS, AND THE BULK OF THE MODELS CONTINUING THE NORTHWESTWARD TRACK. THE JTWC INTENSITY FORECAST IS ALSO CLOSE TO THE MULTI-MODEL CONSENSUS, AND CALLS FOR 26W TO DISSIPATE AFTER TAU 36. BASED ON INCREASING TRACK UNCERTAINTY BEYOND TAU 24, CONFIDENCE IN THE JTWC FORECAST TRACK IS HIGH THROUGH TAU 24 AND FAIR AFTERWARD. THIS IS THE FINAL WARNING ON THIS SYSTEM BY THE JOINT TYPHOON WRNCEN PEARL HARBOR HI. THE SYSTEM WILL BE CLOSELY MONITORED FOR SIGNS OF REGENERATION.
Other Resources / Information