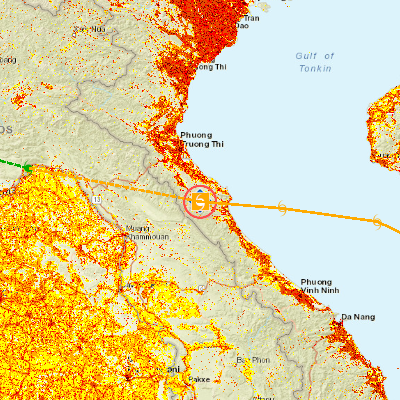 Hazard Details
UPDATE
JTWC
15
80 KT
100 KT
275 degrees
12 KT

September 15, 2017 09:00:00 GMT

September 11, 2017 21:00:00 GMT

September 15, 2017 09:40:19 GMT

150900Z POSITION NEAR 18.0N 105.3E. TYPHOON 21W (DOKSURI), LOCATED APPROXIMATELY 174 NM NORTHWEST OF DA NANG, VIETNAM, HAS TRACKED WESTWARD AT 12 KNOTS OVER THE PAST SIX HOURS. THIS IS THE FINAL WARNING ON THIS SYSTEM BY THE JOINT TYPHOON WRNCEN PEARL HARBOR HI. THE SYSTEM WILL BE CLOSELY MONITORED FOR SIGNS OF REGENERATION. MAXIMUM SIGNIFICANT WAVE HEIGHT AT 150600Z IS 24 FEET. REFER TO TYPHOON 20W (TALIM) WARNINGS (WTPN31 PGTW) FOR SIX-HOURLY UPDATES.
Other Resources / Information