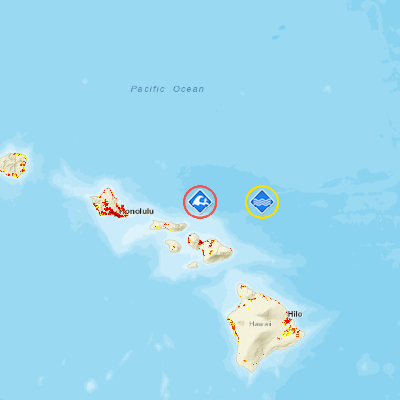 Hazard Details
UPDATE
NWS

March 23, 2018 13:08:00 GMT

March 21, 2018 16:00:00 GMT

March 23, 2018 13:13:51 GMT

HIGH SURF ADVISORY FOR EAST FACING SHORES OF KAUAI OAHU MOLOKAI MAUI AND THE BIG ISLAND.

A persistent northeast swell is maintaining elevated surf along east facing shores of most islands. This swell will continue to gradually diminish today, but surf may remain near the High Surf Advisory criteria along most east facing shores through tonight.

HIGH SURF WARNING IS CANCELLED

The National Weather Service in Honolulu has cancelled the High Surf Warning.
The surf continues to diminish this morning. Therefore, the High Surf Warning is cancelled.

Other Resources / Information