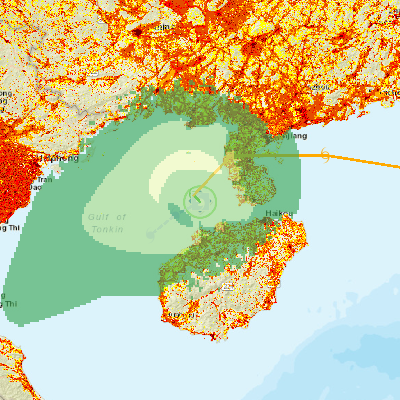 Hazard Details
UPDATE
JTWC
17
25 KT
35 KT
235 degrees
3 KT

October 16, 2017 09:00:00 GMT

October 12, 2017 09:00:00 GMT

October 16, 2017 08:29:26 GMT

160900Z POSITION NEAR 20.3N 109.2E. TROPICAL DEPRESSION (TD) 24W (KHANUN), LOCATED APPROXIMATELY 195 NM EAST-SOUTHEAST OF HANOI, VIETNAM, HAS TRACKED SOUTHWESTWARD AT 03 KNOTS OVER THE PAST SIX HOURS. ANIMATED MULTISPECTRAL SATELLITE IMAGERY (MSI) SHOWS THE SYSTEM HAS RAPIDLY WEAKENED AS THE LOW LEVEL CIRCULATION (LLC) HAS BECOME FULLY EXPOSED AND UNRAVELED AFTER BEING DECOUPLED FROM ITS CENTRAL CONVECTION. THE MSI LOOP ALSO SHOWS STRATOCUMULUS LINES WRAPPING INTO THE LLC FROM THE NORTHWEST, AN INDICATION OF COLD AIR ENTRAINMENT IN THE LOW LEVELS. VIRTUALLY ALL OF THE ASSOCIATED DEEP CONVECTION HAVE SINCE COLLAPSED AFTER BEING SHEARED WESTWARD INTO SOUTHERN CHINA. UPPER LEVEL ANALYSIS INDICATES THE SYSTEM HAS MOVED INTO AN AREA OF STRONG (25-30 KNOT) EASTERLY VERTICAL WIND SHEAR, THE MAIN FACTOR FOR ITS RAPID DECAY. DUE TO THE HARSH ENVIRONMENT, TD 24W IS EXPECTED TO COMPLETELY DISSIPATE IN 12 HOURS IN THE GULF OF TONKIN. THIS IS THE FINAL WARNING ON THIS SYSTEM BY THE JOINT TYPHOON WRNCEN PEARL HARBOR HI. THE SYSTEM WILL BE CLOSELY MONITORED FOR SIGNS OF REGENERATION. MAXIMUM SIGNIFICANT WAVE HEIGHT AT 160600Z IS 8 FEET. REFER TO TROPICAL STORM 25W (LAN) WARNINGS (WTPN32 PGTW) FOR SIX-HOURLY UPDATES.
Other Resources / Information