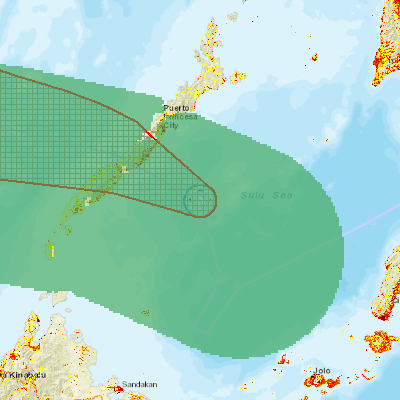 Hazard Details
UPDATE
JTWC
27
20 KT
30 KT
330 degrees
8 KT

February 15, 2018 09:00:00 GMT

February 08, 2018 21:00:00 GMT

February 15, 2018 08:34:52 GMT

150900Z POSITION NEAR 8.9N 119.0E. TROPICAL DEPRESSION 02W (SANBA), LOCATED APPROXIMATELY 70 NM SOUTH-SOUTHEAST OF PUERTO PRINCESA, PHILIPPINES, HAS TRACKED NORTH- NORTHWESTWARD AT 08 KNOTS OVER THE PAST SIX HOURS. ANIMATED ENHANCED MULTI-SPECTRAL SATELLITE IMAGERY SHOWS A FULLY EXPOSED BROAD LLC AND NO ASSOCIATED CONVECTION IN THE VICINITY. A 150531Z GPM 89GHZ MICROWAVE IMAGE INDICATES THAT THE MAJORITY OF DEEP CONVECTION, WHICH HAD PREVIOUSLY BEEN SHEARED OVER 100NM TO THE NORTHWEST, HAS DISSIPATED. THE INITIAL POSITION IS PLACED WITH HIGH CONFIDENCE BASED ON THE EXPOSED LLC IN THE MULTI-SPECTRAL LOOP. THE INITIAL INTENSITY OF 20 KNOTS IS BASED ON A 150158Z ASCAT PASS DEPICTING AN ISOLATED AREA OF 20 KNOT WINDS TO THE NORTH OF THE LLC, AND OTHERWISE MOSTLY 15 KT WINDS SURROUNDING THE DISTURBANCE. PGTW HAS FIXED THE SYSTEM AS TOO WEAK SINCE 150000Z AND RJTD HAS STOPPED ISSUING FIXES ON THE SYSTEM, FURTHER SUPPORTING THE 20 KNOT INTENSITY ESTIMATE. ENVIRONMENTAL ANALYSIS REVEALS THE SYSTEM IS IN AN AREA OF MODERATE TO STRONG (20-25 KNOT) SOUTHEASTERLY VERTICAL WIND SHEAR, WHICH HAS CONTRIBUTED TO THE PROGRESSIVE DISORGANIZATION OF TD 02W. SSTS IN THE SULU SEA ARE MARGINALLY FAVORABLE AT 27 DEGREES CELSIUS, BUT SSTS DECREASE TO BELOW 26 DEGREES CELSIUS IN THE SOUTH CHINA SEA. UPPER LEVEL ANALYSIS SHOWS THAT DIVERGENCE ALOFT HAS ABATED SIGNIFICANTLY, STIFLING ANY REMAINING CONVECTION ASSOCIATED WITH THE SYSTEM. TD 02W IS CURRENTLY TRACKING ALONG THE SOUTHERN PERIPHERY OF A BUILDING EXTENSION OF THE STR TO THE NORTHEAST. TD SANBA IS FORECAST TO TRACK WEST-NORTHWESTWARD CLOSE TO PUERTO PRINCESA, PHILIPPINES, AND ONWARD INTO THE SOUTH CHINA SEA AND IS NOT EXPECTED TO REINTENSIFY. DUE TO THE CHANGES IN STORM MOTION AND THE WEAK NATURE OF THE SYSTEM, THERE IS OVERALL A LOW CONFIDENCE IN THE JTWC FORECAST TRACK. THIS IS THE FINAL WARNING ON THIS SYSTEM BY THE JOINT TYPHOON WRNCEN PEARL HARBOR HI. THE SYSTEM WILL BE CLOSELY MONITORED FOR SIGNS OF REGENERATION. MAXIMUM SIGNIFICANT WAVE HEIGHT AT 150600Z IS 10 FEET.
Other Resources / Information