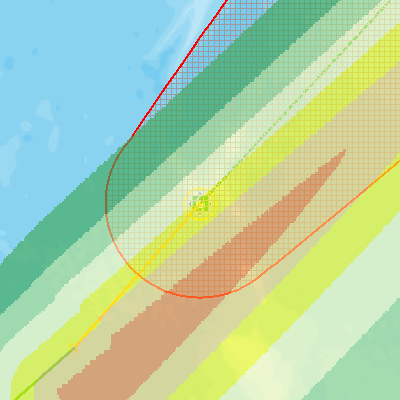 Hazard Details
UPDATE
JTWC
24
60 KT
75 KT
40 degrees
29 KT

August 16, 2017 21:00:00 GMT

August 11, 2017 03:00:00 GMT

August 16, 2017 20:06:27 GMT

162100Z POSITION NEAR 38.9N 171.9E. TROPICAL STORM 14W (BANYAN), LOCATED APPROXIMATELY 1129 NM OF WAKE ISLAND, HAS TRACKED NORTHEASTWARD AT 29 KNOTS OVER THE PAST SIX HOURS. ANIMATED MULTISPECTRAL SATELLITE IMAGERY AND A 161910Z 91GHZ SSMIS IMAGE DEPICTS AN AREA OF FLARING CONVECTION BEING SHEARED TO THE NORTHWEST AND STARTING TO EXHIBIT FRONTAL CHARACTERISTICS. THE INITIAL INTENSITY IS ASSESSED AT 60 KNOTS WHICH IS BASED ON SUBJECTIVE DVORAK ESTIMATES RANGING FROM T3.5 TO 4.0 (55 TO 65 KNOTS). 14W HAS ACCELERATED NORTHEASTWARD JUST AHEAD OF A MID- LATITUDE TROUGH AND INTO COOLER WATERS. UPPER-LEVEL ANALYSIS SHOWS A SUBSTANTIAL INCREASE IN WIND SHEAR OVER THE LAST SIX HOURS AS THE SYSTEM TRACKS FURTHER INTO THE BAROCLINIC REGION. TS 14W IS CURRENTLY TRANSITIONING INTO A COLD CORE EXTRATROPICAL SYSTEM, AND IS FORECAST TO BE FULLY EXTRATROPICAL BY TAU 12. THIS IS THE FINAL WARNING ON THIS SYSTEM BY THE JOINT TYPHOON WRNCEN PEARL HARBOR HI. THE SYSTEM WILL BE CLOSELY MONITORED FOR SIGNS OF REGENERATION. MAXIMUM SIGNIFICANT WAVE HEIGHT AT 161800Z IS 26 FEET.
Other Resources / Information