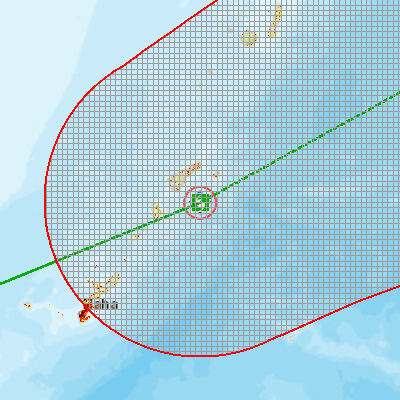 Hazard Details
UPDATE
JTWC
4
35 KT
45 KT
65 degrees
35 KT

June 14, 2018 15:00:00 GMT

June 13, 2018 21:00:00 GMT

June 14, 2018 16:09:33 GMT

141500Z POSITION NEAR 28.6N 131.1E. TROPICAL STORM (TS) 07W (SEVEN), LOCATED APPROXIMATELY 132 NM NORTHEAST OF KADENA AB, OKINAWA, JAPAN HAS TRACKED EAST- NORTHEASTWARD AT 35 KNOTS OVER THE PAST SIX HOURS. ANIMATED ENHANCED INFRARED SATELLITE IMAGERY SHOWS THE REMAINING DEEP CONVECTION THAT IS ASSOCIATED WITH TS 07W IS BEING SHEARED TO THE NORTHEAST OF THE LOW LEVEL CIRCULATION CENTER (LLCC). THE INITIAL POSITION AND INTENSITY IS BASED ON A 141201Z METOP-A ASCAT IMAGE SHOWING AN ELONGATED CIRCULATION AND SEVERAL 35 KNOT WIND BARBS. ENVIRONMENTAL ANALYSIS SHOWS TS 07W HAS BECOME EMBEDDED WITHIN THE WESTERLIES AND IS EXPERIENCING UNFAVORABLE VERTICAL WIND SHEAR (50 TO 60 KNOTS). A 140900Z AMSU TEMPERATURE ANOMALY CROSS-SECTION SHOWS THAT TS 07W IS LOSING ANY REMAINING WARM CORE CHARACTERISTICS. THE AFOREMENTIONED ASCAT IMAGE ALSO INDICATES THAT TS 07W IS BECOMING ASYMMETRIC. TS 07W WILL CONTINUE TO TRACK TO THE NORTHEAST AS IT INTERACTS WITH A WEST TO EAST MOVING TROUGH. TS 07W WILL COMPLETE EXTRATROPICAL TRANSITION BY TAU 12. DYNAMIC MODEL GUIDANCE IS IN GOOD AGREEMENT, THEREFORE, THERE IS HIGH CONFIDENCE IN THE JTWC FORECAST TRACK. THIS IS THE FINAL WARNING ON THIS SYSTEM BY THE JOINT TYPHOON WRNCEN PEARL HARBOR HI. THE SYSTEM WILL BE CLOSELY MONITORED FOR SIGNS OF REGENERATION. MAXIMUM SIGNIFICANT WAVE HEIGHT AT 141200Z IS 14 FEET. REFER TO TROPICAL DEPRESSION 08W (EIGHT) WARNINGS (WTPN32 PGTW) FOR SIX-HOURLY UPDATES.
Other Resources / Information