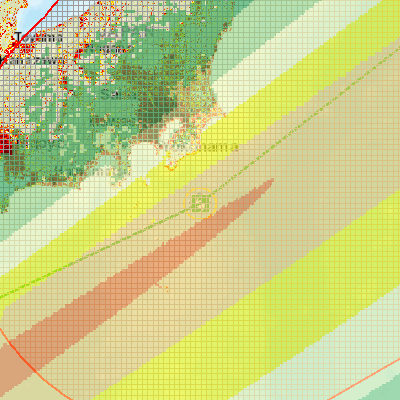 Hazard Details
UPDATE
JTWC
40
55 KT
70 KT
65 degrees
42 KT

October 29, 2017 15:00:00 GMT

October 19, 2017 21:00:00 GMT

October 29, 2017 13:57:13 GMT

291500Z POSITION NEAR 35.8N 142.7E. TROPICAL STORM 27W (SAOLA), LOCATED APPROXIMATELY 64 NM SOUTH- SOUTHEAST OF YOKOSUKA, JAPAN, HAS TRACKED EAST-NORTHEASTWARD AT 42 KNOTS OVER THE PAST SIX HOURS. TS 27W IS ASSESSED AS AN EXTRA- TROPICAL CYCLONE AND HAS CONTINUED TO RAPIDLY ACCELERATE NORTHEASTWARD. ANIMATED INFRARED SATELLITE IMAGERY DEPICTS A RAPIDLY DECAYING SYSTEM WITH NO DISCERNIBLE LOW LEVEL CIRCULATION CENTER. TS 27W WILL CONTINUE TO ACCELERATE NORTHEASTWARD WITHIN THE MID-LATITUDE WESTERLY FLOW BUT IS FORECAST TO MAINTAIN STRONG-GALE TO STORM-FORCE WINDS FOR THE DURATION OF THE FORECAST. THIS IS THE FINAL WARNING ON THIS SYSTEM BY THE JOINT TYPHOON WRNCEN PEARL HARBOR HI. THE SYSTEM WILL BE CLOSELY MONITORED FOR SIGNS OF REGENERATION. MAXIMUM SIGNIFICANT WAVE HEIGHT AT 291200Z IS 28 FEET.
Other Resources / Information