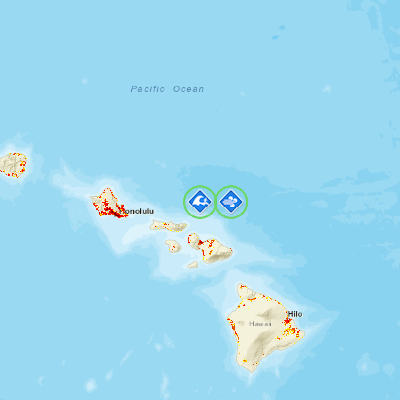 Hazard Details
UPDATE
NWS

February 27, 2018 13:30:00 GMT

February 23, 2018 16:00:00 GMT

February 27, 2018 13:46:00 GMT

HIGH SURF ADVISORY FOR EAST FACING SHORES OF KAUAI, OAHU, MOLOKAI, MAUI, AND THE BIG ISLAND.

A large, short-period east swell combined with strengthening trade winds will maintain elevated rough surf along east facing shores this week.

HIGH SURF ADVISORY REMAINS IN EFFECT UNTIL 6 AM HST FRIDAY

* SURF...Along east facing shores, 8 to 11 feet today, rising to 9 to 13 feet Wednesday.
* TIMING...Through Friday morning.
* IMPACTS...Moderate...Expect strong breaking waves, shore break, and strong longshore and rip currents making swimming difficult and dangerous. The long duration of this large surf, combined with strong onshore winds and large astronomical tides, could result in coastal inundation along some vulnerable low lying sections of east facing shorelines.

Other Resources / Information