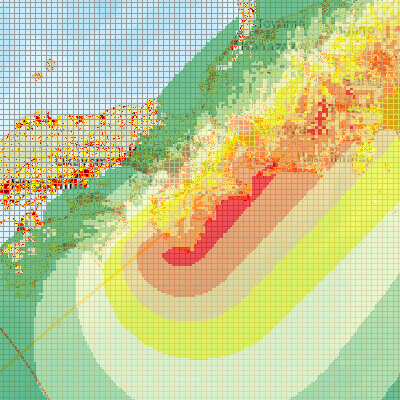 Hazard Details
UPDATE
JTWC
40
75 KT
90 KT
50 degrees
28 KT

September 30, 2018 15:00:00 GMT

September 20, 2018 21:00:00 GMT

September 30, 2018 13:53:43 GMT

301500Z POSITION NEAR 35.8N 138.0E. TYPHOON (TY) 28W (TRAMI), LOCATED APPROXIMATELY 157 NM WEST- SOUTHWEST OF CAMP FUJI, HAS TRACKED NORTHEASTWARD AT 28 KNOTS OVER THE PAST SIX HOURS. THE INITIAL POSITION IS PLACED WITH FAIR CONFIDENCE USING A COMBINATION OF ANIMATED ENHANCED INFRARED SATELLITE IMAGERY, WHICH SHOWS THE EYE HAS BECOME CLOUD FILLED, AND SURFACE OBSERVATIONS FROM REPORTING STATIONS IN JAPAN. THE INITIAL INTENSITY OF 75 KTS REFLECTS SOME DECAY IN THE CONVECTIVE STRUCTURE OVER THE PAST SIX HOURS. THE ENVIRONMENT IS UNFAVORABLE WITH HIGH VERTICAL WIND SHEAR AND SIGNIFICANT LAND INTERACTION BEING PARTIALLY OFFSET BY EXCELLENT OUTFLOW, PARTICULARLY ON THE POLEWARD SIDE. THE CLOUD SIGNATURE IS STARTING TO TAKE ON EXTRATROPICAL CHARACTERISTICS WITH INDICATIONS OF DEVELOPING FRONTS AND THE DEEPEST CONVECTION NORTHEAST OF THE LOW LEVEL CIRCULATION CENTER. TY 28W WILL CONTINUE TO TRACK AROUND THE NORTHWESTERN PERIPHERY OF A SUBTROPICAL RIDGE AND CONTINUE TO WEAKEN AS IT COMPLETES EXTRATROPICAL TRANSITION BY TAU 12. THIS IS THE FINAL WARNING ON THIS SYSTEM BY THE JOINT TYPHOON WRNCEN PEARL HARBOR HI. THE SYSTEM WILL BE CLOSELY MONITORED FOR SIGNS OF REGENERATION. REFER TO TYPHOON 30W (KONG-REY) WARNINGS (WTPN32 PGTW) FOR SIX-HOURLY UPDATES.
Other Resources / Information