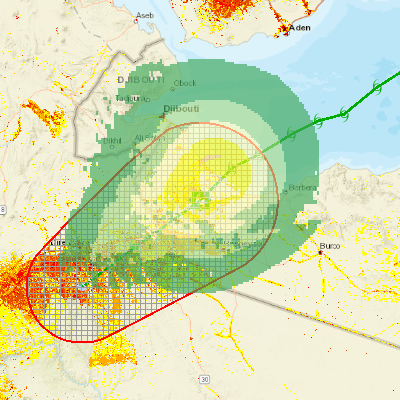 Hazard Details
UPDATE
JTWC
12
50 KT
65 KT
235 degrees
7 KT

May 19, 2018 15:00:00 GMT

May 16, 2018 21:00:00 GMT

May 19, 2018 13:41:02 GMT

191500Z POSITION NEAR 10.1N 43.4E. TROPICAL CYCLONE (TC) 01A (SAGAR), LOCATED APPROXIMATELY 88 NM SOUTH- SOUTHEAST OF DJIBOUTI CITY, DJIBOUTI, HAS TRACKED SOUTHWESTWARD AT 07 KNOTS OVER THE PAST SIX HOURS. ANIMATED MULTISPECTRAL SATELLITE IMAGERY DEPICTS CONVECTIVE BANDING WRAPPING TIGHTLY INTO A WELL- DEFINED LOW-LEVEL CIRCULATION CENTER, WHICH SUPPORTS THE CURRENT POSITION WITH GOOD CONFIDENCE. THE CURRENT INTENSITY HAS DECREASED SLIGHTLY TO 50 KNOTS BASED ON A SLIGHT WEAKENING TREND WITH WARMING CLOUD TOP TEMPERATURES EVIDENT IN ANIMATED ENHANCED INFRARED SATELLITE IMAGERY. TC 01A MADE LANDFALL AT APPROXIMATELY 19/0730Z AND WILL CONTINUE TO TRACK SOUTHWESTWARD, OVER LAND, THROUGH THE FORECAST PERIOD. THE SYSTEM WILL RAPIDLY WEAKEN AND WILL DISSIPATE BY TAU 24. OVERALL, CONFIDENCE IN THE JTWC FORECAST TRACK REMAINS HIGH. THIS IS THE FINAL WARNING ON THIS SYSTEM BY THE JOINT TYPHOON WRNCEN PEARL HARBOR HI. THE SYSTEM WILL BE CLOSELY MONITORED FOR SIGNS OF REGENERATION.
Other Resources / Information