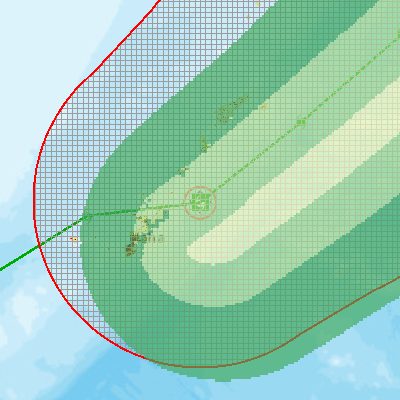 Hazard Details
UPDATE
JTWC
9
35 KT
45 KT
85 degrees
17 KT

June 16, 2018 09:00:00 GMT

June 14, 2018 09:00:00 GMT

June 16, 2018 08:39:29 GMT

160900Z POSITION NEAR 27.2N 129.3E. TROPICAL STORM (TS) 08W (GAEMI), LOCATED APPROXIMATELY 64 NM EAST- NORTHEAST OF KADENA AB, HAS TRACKED EASTWARD AT 17 KNOTS OVER THE PAST SIX HOURS. ANIMATED ENHANCED INFRARED SATELLITE IMAGERY SHOWS THE CYCLONE IS UNDERGOING EXTRATROPICAL TRANSITION (ETT) WITH DEEP CONVECTION TO THE NORTHEAST OF THE BROAD LOW LEVEL CIRCULATION CENTER (LLCC) AND FRONTAL CHARACTERISTICS. CONFIDENCE IN THE INITIAL POSITION IS LOW BECAUSE THE LLCC IS BROAD. THE CURRENT INTENSITY IS SET AT 35 KNOTS BASED ON A PARTIAL 160145Z METOP-A ASCAT PASS SHOWING 35 KNOT WINDS TO THE NORTH OF THE LLCC AND PGTW SUBTROPICAL DVORAK ESTIMATES OF T2.5 (35 KNOTS). TS 08W IS LOCATED UNDER AN UPPER-LEVEL TROUGH WITH STRONG VERTICAL WIND SHEAR OF APPROXIMATELY 40 KNOTS. THE CYCLONE IS FORECAST TO TRACK TO THE NORTHEAST AND COMPLETE ETT IN THE NEXT 12 HOURS. THE OFFICIAL FORECAST TRACK IS SLIGHTLY SOUTH AND FASTER THAN THE CONSENSUS, CONSISTENT WITH THE ECMWF AND THE PREVIOUS JTWC FORECAST TRACK. DESPITE THE SHORT DURATION OF THIS FORECAST, OVERALL CONFIDENCE IN THE FORECAST TRACK IS LOW BECAUSE OF UNCERTAINTY IN THE INITIAL POSITION AND LARGE SPREAD IN THE MODEL GUIDANCE. THIS IS THE FINAL WARNING ON THIS SYSTEM BY THE JOINT TYPHOON WRNCEN PEARL HARBOR HI. THE SYSTEM WILL BE CLOSELY MONITORED FOR SIGNS OF REGENERATION. MAXIMUM SIGNIFICANT WAVE HEIGHT AT 160600Z IS 15 FEET.
Other Resources / Information